On this page
Switch to labels from folders
In other email programs, you might have stored email in folders. In Gmail, you use labels to categorize your email. Labels are like folders, but with a twist—you can apply several labels to an email, then later find the email by clicking any of its labels from the left panel. You can also search by label.
Use labels to...
Track the status of people's tasks. For example, create the labels Laura: In Progress and Laura: Done to indicate email that Laura is working on or has completed.
Organize email by nesting labels like subfolders. For example, create the label Tasks. Under Tasks, create nested labels by person.
Identify email that needs follow-up.
Identify email that can be read later.
Create a label
On your computer, go to Gmail.
On the left, scroll down, then click More.
Click Create new label.
Name your label.
Click Create.
Label messages in your inbox
On your computer, go to Gmail.
Select the messages.
At the top, click Labels.
Select a label, or create a new one.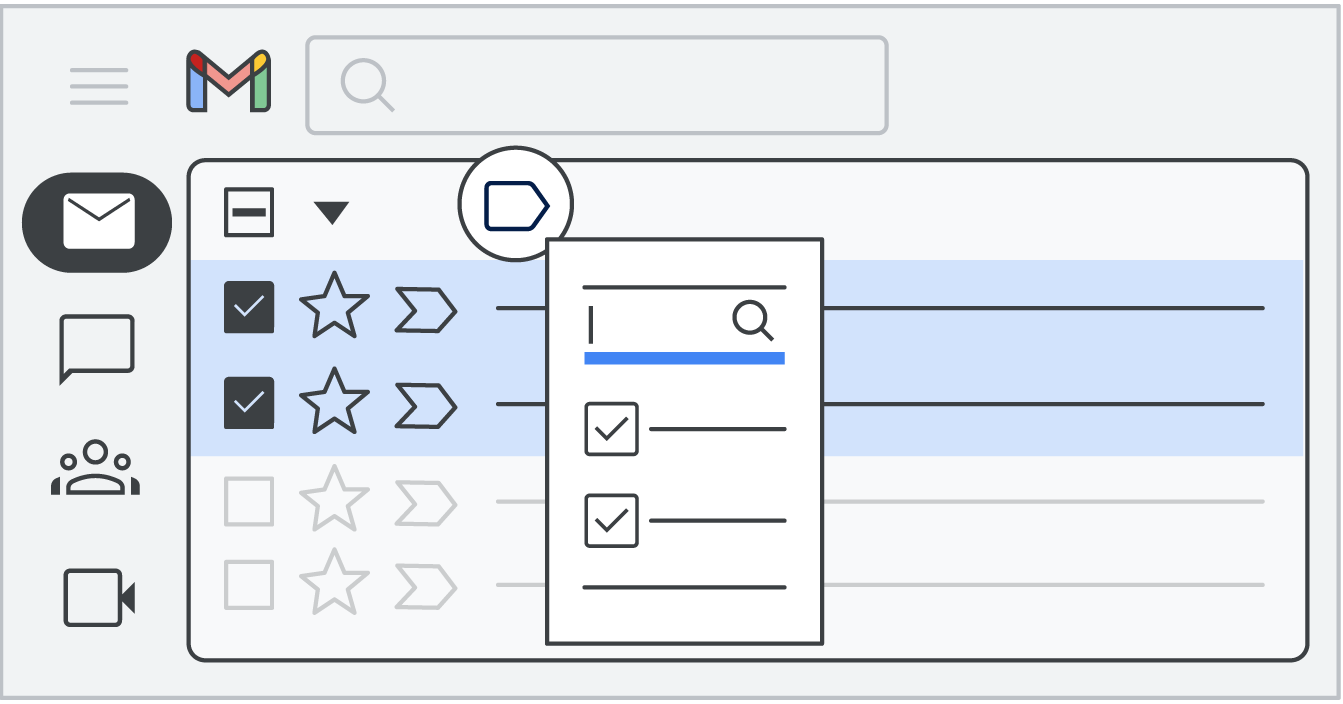 Create rules to filter your emails
You can manage your incoming mail using Gmail's filters for example, to send email to a label, or automatically archive, delete, or star incoming mail.
Open Gmail.
In the search box at the top, click Show search options .
Enter your search criteria. If you want to check that your search worked correctly, see what emails show up by clicking Search.
At the bottom of the search window, click Create filter.
Choose what you'd like the filter to do.
Click Create filter.
Note: When you create a filter to forward messages, only new messages will be affected. ​Additionally, when someone replies to a message you've filtered, the reply will only be filtered if it meets the same search criteria.
Tip: Try these Gmail filters for work or school.
Learn more at the Gmail Help Center
Star important email
When you star emails in Gmail, you mark them as important. This helps you remember to look at them later.
Star an email
On your computer, open Gmail.
From your inbox, go to the left of the message, then click Star . If the message is open, click More Add Star.
If you have multiple stars, keep clicking the star icon until you see the one you want to use.
See your starred messages
On your computer, open Gmail.
On the left side of the page, click Starred. You may need to click More first.
You can also use shortcuts to find starred messages by searching is:starred or has: with the star's name, like has:yellow-star.
Learn more at the Gmail Help Center
Search for messages
Search your emails, chats, or spaces
Open Gmail.
At the top, in the search box, enter your search criteria.
Press Enter.
(Chat in Gmail enabled only) Choose where to search by clicking Mail, Messages, or Spaces:

Mail searches your email.
Messages searches existing messages in chats and spaces.
Spaces searches the names of spaces that you have joined and spaces that you can join.
Narrow your email search
At the top of your inbox, search for one or more keywords that appear anywhere in the email—in the subject, body, or sender name.
If you're looking for something specific, click Show search options
to use advanced search.
Example: Search for:
Senders—Example: From:(sam@company.com)
Date ranges—Example: after:2019/3/29 before:2019/4/5
Keywords—Example: Company confidential
Message attributes, such as attachments—Example: has:attachment
Learn more at the Gmail Help Center
Archive emails instead of deleting
Archived email messages move out of your inbox but stay under All Mail, so that you can find them later.
Archive an email
On your computer, go to Gmail.
Point to the message.
On the right, click Archive .
Tip: If keyboard shortcuts are turned on, you can also press e to archive an email you're looking at.
Find archived messages
The All Mail label is added to every message. If a message has been archived, you can find it by opening the All Mail label.
On your computer, go to Gmail.
On the left, click More.
Click All Mail.
Learn more at the Gmail Help Center
Delete emails permanently
When you delete a message, it stays in your trash for 30 days. After that time, it will be permanently deleted. If you want to remove a message from your inbox but don't want to delete it, you can archive the message.
On your computer, go to Gmail.
Point to the message.
On the right, click Delete .
Learn more at the Gmail Help Center
Back to top