---

Discovery ads can help you drive interest and action with consumers as they look for inspiration across Google's most popular feeds: YouTube (Home, Watch Next), Discover, and Gmail. Whether they're watching videos, catching up on their favorite interests, or checking for the latest offers, 91% of Google feed users say they took some kind of shopping or product-related action immediately after discovering new products, services, or brands on their feeds.1
To connect immediately with these audiences as they "window shop" on Google's feeds, it's important to create high-quality visual experiences that delight the eye while offering authentic, meaningful messages. Be sure to follow the Discovery ad format requirements and editorial guidelines, and apply these creative best practices to help you create more compelling and impactful ads:
---
Reuse imagery from other platforms to drive inspiration and action.
Why: Google's feeds offer richly personal and highly visual consumer experiences. Reusing high-performing, inspirational imagery from existing campaigns can help you save time and ensure you make the most of Discovery ads' surfaces to showcase your brand and products at their best.
Tip
If you're already running ads for social or video, be sure to include your best-performing assets from these campaigns in your Discovery ads. For example, you can reuse existing assets from social campaigns or create image assets from your video campaigns. Focus on inspirational, highly relevant assets that are authentic to your brand and avoid generic stock photography. If using stock images, make sure it connects with your brand and story.
Use high-quality images (1200x628, 960x1200 and 1200x1200) that stop audiences mid-scroll.
Why: Your images will be the first thing people notice when they come across your Discovery ads. Use the highest-possible image resolution, and highlight your product or service to help people instantly understand what you're showcasing. To give a better idea of how your products or services work, consider uploading imagery that shows someone using them.
Example
If you own a flower shop, consider featuring a person offering or receiving a bouquet.
Tip
Use the "website scan" feature when uploading images. This will find and upload images directly from your website or social feeds.
Example image assets:
| | | |
| --- | --- | --- |
| | | |
| Nectar by Resident | UGG (Deckers Brands) | Fabletics |
Optimize your reach across every property by using both the single-image and multi-image carousel layouts — and be sure to include every aspect ratio possible (portrait, square and landscape).
Why: To ensure ads feel both visually authentic and appear at their best across every available property, include portrait, square, and landscape formats to give your campaign the opportunity to serve ads more often across more ad slots in Google's feeds.
Tip
If driving qualified leads to your business is a key focus, consider using lead form extensions (compatible with the single-image layout).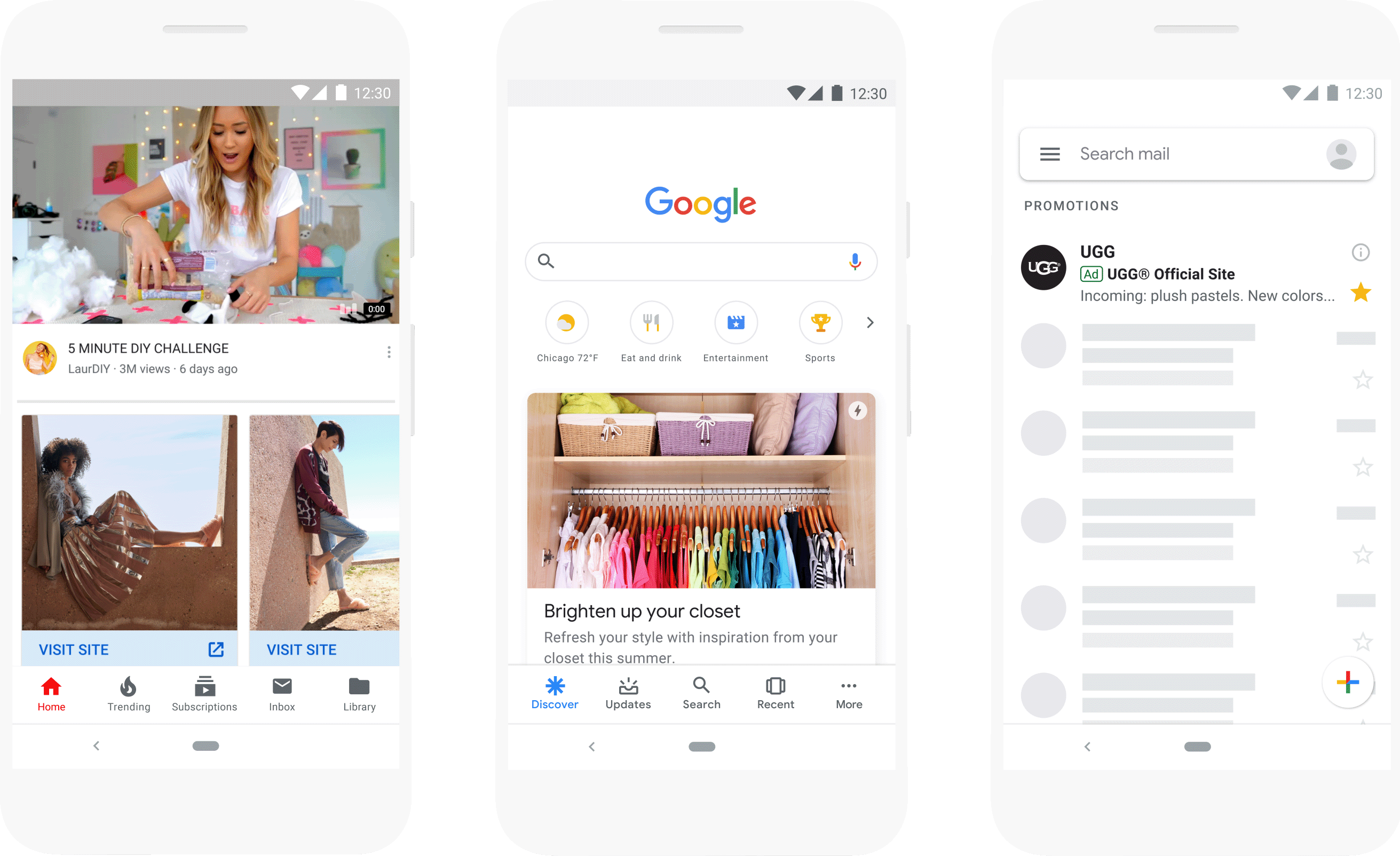 Give the system enough assets to understand which creative drives results.
Why: Including a wide variety of images, headlines, descriptions and image aspect ratios enables the platform to learn which assets drive the best results and optimize your ads for better performance.
Tips
Single images: Practice the "rule of three" — add at least three assets, headlines, and descriptions for each aspect ratio within the same ad.
Carousel images: When using carousels, add at least five images, and be sure to add square, portrait and landscape formats for each card. Also consider telling a story rather than simply showing a mix of products and note that the images will be shown in the order you upload them.
Example
If you own a car dealership, you can use carousels to promote a vehicle you're selling by showing a person driving it in different places throughout their day, like commuting on the freeway, driving down the coast, or up to a mountaintop.
Include authentic imagery that features one or more people using your products.
Why: Including images of people using your products can help add real-life context and relatability for your audience.
Research
Based on an internal analysis with Creative Works, images with a person drive 4% more clicks compared to images without a person.2
Use overlay text sparingly and make sure text in your image complements your headline, description, and call to action.
Why: Overlaid text can appear differently on different devices and offer a less compelling consumer experience while scrolling in a feed.
Research
Based on an internal analysis with Creative Works, on average, images without overlaid text drive 9% more clicks.3
Highlight information about your product and offerings (like promotions) within your headlines and descriptions.
Why: Promotions and discounts (ex. free shipping, X% off, etc.) increase interest and help motivate customers to complete purchases. By highlighting them within your headlines and descriptions you can encourage people to engage with your brand.
Example:
| | |
| --- | --- |
| Headlines | Descriptions |
| "Enjoy up to 40% off and free shipping" | "Use coupon — EXAMPLECODE & get extra 50% off." |
| "Widgets now with 0% interest" | "Shop online and receive free shipping on orders over $50" |
| "Enjoy a free sandwich today" | "Show military ID at the door and receive 10% off" |
If you're showing a single product, showcase it from meaningfully different angles to convey more information, and explore using close up shots with bright, high-contrast colors.
Why: Doing so can proactively address frequently asked questions and help drive more engagement with your brand.
Example
If you sell vacuums, consider uploading images to your Discovery campaign which feature your vacuum from different angles: an overview image, a close-up image of the debris-removal system, an image of someone using it, etc.
Ensure your campaign is set to use the same language as your creative
Why: You can increase the likelihood of qualified clicks by making sure your campaign's language setting matches the language of your creative — after all you wouldn't want ads in Spanish appearing for non-Spanish speakers. Learn how language targeting works.
Download our short creative guide for more visual examples and tips for building stunning ads.
1. Google/Ipsos, Google Feed Consumer Insights, June 2020, Online survey. Americans 18+ who made a discovery on at least one Google feed (feeds defined as Google app, Chrome app, YouTube, Gmail) on a mobile device. Base: Feed users n=1,053
2. Google Internal Data: An analysis of 27K images, 22K headlines and 27K descriptions used by Auto, CPG and Retail advertisers from January 2019 - September 2020
3. Google Internal Data: An analysis of 27K images, 22K headlines and 27K descriptions used by Auto, CPG and Retail advertisers from January 2019 - September 2020